Conferences
Hotel Atena offers a choice of 5 conference rooms
Peace
M2
Theater
Horseshoe
Supervisory Board
School
Coctail
Banquet
Conference room 1 & 2
80
70
60
40
40
40
72
Conference room 3
65
40
30
30
30
30
60
Aegean Hall
35
20
16
16
18
15
24
Banquet Hall
300
300
60
60
80
150
168
VIP
60
30
24
24
24
40
48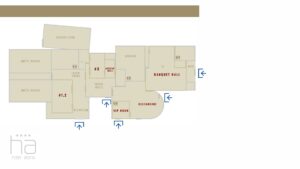 Conference and Business Center
Meetings and conferences are an inseparable element contributing to the proper development of the company and its employees. The hotel offers you an excellent location, modern rooms and high-class technical equipment, creating the perfect facilities for the organization of congresses, trainings, fairs, exhibitions and all kinds of conferences. The conference center in the Atena Hotel is 5 fully multimedia-equipped conference rooms , located on one level without architectural barriers, with a spacious foyer, which are an ideal place for a coffee break or for organizing a registration stand. The total conference area is 575 m2 and can accommodate up to 450 people in a cocktail setting. The rooms have access to daylight and are equipped with air conditioning.
Conference rooms combining modernity with classic elegance
Free WiFi throughout the property
Audio-video equipment and full technical support (screen, sound system, flipchart, microphones, laser pointers, other ...)
Excellent cuisine at the Atena Restaurant
Delicious coffee breaks, sweets baked on the spot
Monitored parking
Comfortable accommodation for meeting participants
Organization of the registration stand
Photocopying, printing, fax services (available at the hotel reception)
Providing a counter-surveillance system, anti-eavesdropping protection of important and valuable information security meetings during business meetings, strategic meetings or trade negotiations.

We offer several basic service options:
a) Basic: Coffee, tea, cookies, mineral water, fruit juices,
b) Sweet: Basic package plus home-made cakes,
c) Snacks: Sweet Package plus various snacks and sandwiches,
d) Lunch: Soup (to choose from), second course to choose from, mineral water and compote.
We use natural products of local origin in our kitchen. Our team is able to prepare dishes for people with special dietary requirements: gluten-free, low-calorie, vegan and vegetarian . Our professional staff from the Conferences department will stay in constant contact with you to ensure all details of the meeting. We offer free parking for cars and buses . The car park has approx. 100 parking spaces for buses and cars .
When planning a conference, please contact the Conference department.